Losing weight takes a lot of dedication, determination, motivation and countless hours of working on what food you eat and your body. If you are one of those who want to lose weight without quitting your diet and want it permanently to stay off then you are on a right page.
Losing weight is a big task. It not only challenges your physical strength but also your mental strength. It deprives us of most of the foods we love to eat. To achieve healthy weight, we shall mention here some of the methods that can help you lose weight. Eating mindfully with little physical work out can help you stay on the track.
It is actually not easy to stick to a certain diet and exercise. There are various ways that can help you consume fewer calories without quitting your diet. It is helpful in preventing future weight gain.
So, we shall mention here some of the ways that can help you lose weight without giving up your favourite foods.
1.Control your portion
You need not give up your favourite foods if you are eating it in a right portion. Do not indulge in foods with your heart. Know your body and listen to your stomach. If you eat out of emotions you will tend to eat in excess. So, while having meal serve yourself in a small plate and drink a glass of water before having a meal. It will make you feel full and this helps in being selective.
2.Keep a check on your daily physical activity
Keep a track on your daily activities like how many steps you are walking, running and how many calories you are burning in a day. This will help you accomplish your weight loss goals. Also, it will keep you motivated in your day to day tasks towards weight loss.
There are various options available in the market that will help you track the calories burned on daily basis.
3.Compensate for missed workout routines
If you are in your weight loss journey and you do not want to quit your diet, it is really important not to miss your daily workout. If by any chance you miss the routine workout make sure you compensate the same with alternatives. You can engage yourself in simple exercises along with the routine work.
4.Think before you decide what to eat
Being mindful of what you eat and how much you eat is not just a great way to start your weight loss journey but is also beneficial in maintaining the lost weight.
Make sure eating mindfully does not put you under stress. Because under stress the body releases cortisol hormones which activates the fat production.
5.Try to balance your diet
You can lose weight and still have your favourite foods but you need to practice eating mindfully. You may eat the food that comforts you by adding healthy alternative.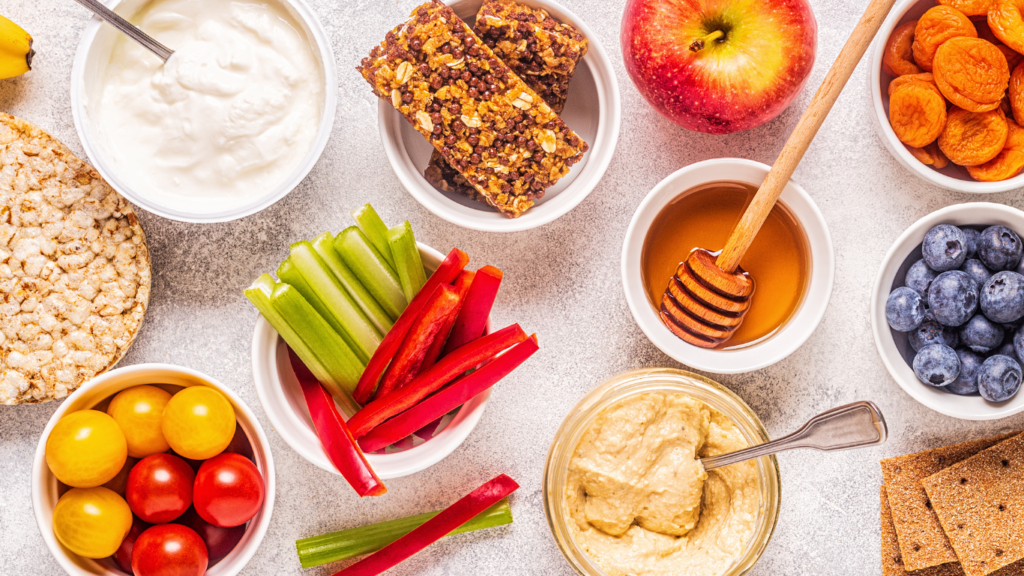 6.Switch to healthy snacks
Most of us are habitual of binge eating. Choosing snacks that are healthy and nutritious is a good way to reduce weight and maintain the lost weight. Healthy snacks such as dry fruits, berries, etc, can be of great help in achieving the weight loss goal. Such healthy snacks keep you full for a longer period and prevents from consuming extra calories.
7.Enjoy your food by chewing it thoroughly
Going slow in eating your foods is linked with eating less amounts of calories and better absorption of nutrients. Chewing your food thoroughly is an easy way to feel full for long and prevent weight gain.
8.Eat a good portion of protein
Eating protein rich diet has an impact on your appetite as it affects certain hormones related to hunger and fullness. It makes you feel full which as a result stops your craving and prevents consuming more calories.
9.Keep yourself hydrated
Drinking adequate amount of water can help you lose weight. It helps you eat fewer calories and also benefit in keeping a good health.
10.Make a habit of eating your meal without electronic distraction
Pay attention to the food you are eating, it helps in eating less and weight loss. Those who eat their food while watching television or games or using phone tend to overeat.
11.Keep yourself away from sugary drinks
Added sugar in the foods and drinks are the worst enemy of weight loss. Sugary drinks drastically increase the body weight and is a gateway for many diseases.
12.Keep unhealthy foods out of sight
The saying "out of sight, out of mind" holds true for foods in your kitchen. If your kitchen is full with unhealthy foods, more are the chances of consuming it. Hence, eliminate it from your kitchen and refrigerator.
If your kitchen contains unhealthy foods you are more likely to eat foods that should be avoided. The early you take detox your kitchen from unhealthy foods the longer you will able to maintain a healthy weight.
Following the above methods can help you lose weight without feeling hungry and deprived. But there is no use of losing weight only to regain it soon. So, it is advised to lose weight slowly by adopting simple methods and strategies as already mentioned in the article. This will help you in a healthy weight loss and also keep you on a track with weight loss.